Pilotage and Towage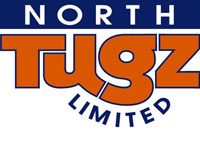 North Tugz Limited is a joint venture company between two shareholders, namely Northport and Ports of Auckland Ltd.  
North Tugz provides the towage and pilotage services to Refining NZ and Northport at Marsden Point.  
The company has existed in its present structure since 2003, and relies on both Refining NZ and Northport for its revenue.  The current configuration has allowed the company to purchase and operate a modern tug fleet.   Not only are the tugs technologically advanced, but they also supply bollard pull in excess of 110 tonnes, all with two-man crews on each vessel.  
The fleet and its capabilities in place ensure that North Tugz is more than adequately equipped to handle the current size of large supertankers calling at the Refinery.  This in turn has meant that the company is also well positioned to cope with any future growth, and at the predicted increased size of vessels which may inevitably call at Northport.  The financial performance of the company has meant that the investment of the two shareholders has been a very successful and beneficial enterprise for the partners.
Contacts:
NorthTugz
Ralph Trimmer Drive
PO Box 26
Ruakaka 0151
NEW ZEALAND
Phone: 64-9-432 8452
Fax: 64-9-432 8475
Shipping Operations 64-9-432 7655