NP234
Northport background information
Northport is situated at Marsden Point at the mouth of Whangarei Harbour. It is New Zealand's northernmost deep-water port. It is a flexible facility catering for large, multi-purpose vessels and full cargo handling facilities are available from its 570m linear berth.
Logs, woodchip and processed timber for export comprise the bulk of cargo handled by the port. Recent investment in container handling equipment has seen an uptake in coastal and international container trade. Other export items include kiwifruit, dairy products and manufactured goods. Imports are an important part of Northport's business and include fertiliser, gypsum, coal and palm kernel.
The port is owned and operated by Northport Ltd, itself owned jointly and equally by Marsden Maritime Holdings Ltd and the Port of Tauranga Ltd.
The back story
The Northland Harbour Board, the controlling port authority at the time, first proposed a port facility at Marsden Point in the late 1960s. It was not until 1976 that the proposal was moved ahead with the first of several environmental reports. The plan lost traction during the 1980s and it wasn't until the Northland Port Corporation was formed in 1988 that it re-gained momentum.
Northland's forestry industry was slowly increasing in production and was the catalyst for eventual construction. Final consents for a two-berth facility were finally granted and in 2000 the Northland Port Corporation (now Marsden Maritime Holdings Ltd) entered into a joint venture with the Port of Tauranga to form Northport Ltd.
Construction was started in 2000 and the first log-ship ship was loaded in June 2002. In 2004 consents were obtained for the construction of the third and fourth berths. Construction of the third berth started in late 2005 and was completed in October 2007.
In April 2007 Port Whangarei was closed to commercial shipping and all cargo operations were transferred to Northport.
Common user facility
More than 350 companies are registered for entry onto the port
eight have offices here or are permanently on site, with approximately 300 staff between them (ISO, C3, ISL, Genera, North Tugz, Marusumi, SMW, Forest Loaders)
three stevedoring operations, including Northport's container handling service
three marshallers, including Northport's container and break-bulk marshalling
13 ship agencies
five government agencies (MNZ, Customs, MPI, DHB and WorkSafe)
3,961 port users with active swipe cards
281,245 inward gate movements / 562,490 total gate movements (July 2020-June 2021)
Average of 540 truck movements a day, based on a seven-day week
Only about 35 staff directly employed by Northport Ltd
Containers
Volume of container traffic increased from 820 TEU in 2016/17 to 19,106 TEU in 21/22
About half kiwifruit exported from Northland leave from Northport, up from 25 percent in 2018/19.
One-stop shop for importers and exporters; can receive and store cargo, pack and devan containers, provide VGM compliance certification, and load or unload cargo using our two mobile harbour cranes.
More refrigerated containers being shipped through Northport; mainly kiwifruit and meat
Container handling: 2x Konecranes Gottwald Mobile Harbour Cranes
Can serve container vessels up to post-Panamax class.
First crane (100 tonnes) installed in April 2015; second (125 tonnes) in February 2020.
Second crane increased productivity of dedicated container vessels using the port; provides resilience.
In addition to containers, extends Northport's flexibility in handling heavy project cargo.
 
Container handling: $8m infrastructure investment
Additional container-handling equipment (2x reach-stacker container handlers, 1x dock-truck, 1x MAFI trailer).
Simulator module to train staff in operation of container-handling equipment.
Expanding paved area by 4ha to enable the port to reorganise storage, providing 6.35ha paved break-bulk / container storage.
Upgrading lighting to enhance safety during 24-hour operations (six x 35m LED light towers).
Terminal Operating System (TOS) and associated software to electronically interface with shipping lines and regulatory bodies
 Demonstrates commitment to growing container traffic to service both our region and north Auckland.
Vote of confidence in continued economic growth around our region and across the Upper North Island.
 
Direct container service from Northport to Australia, Asia and Europe
Shipping lines MSC and CMA have extended their container services linking Northland with Australia, Asia and Europe via the Panama Canal.
MSC's seasonal service to Asia, through Brisbane and Singapore, entered its fifth year in 2023. It is being used extensively by ZESPRI for Northland kiwifruit exports. It is also being used by exporters of other Northland products that benefit from the direct link and refrigerated container space.
CMA's seasonal Panama service to Europe was introduced to Northport during the 2022 Kiwifruit export window; three calls left Northport on a trial basis. The uptake and service was good so frequency was increased in 2023, shipping hundreds of containers of high-value exports from the region direct to the East Coast of the US and Europe. 
"These are valuable direct links to major export markets which Northland businesses can take advantage of. Although they're seasonal services catering primarily for Kiwifruit exports they are also available to, and have been embraced by, a range of other sectors" - Northport commercial manager David Finchett.
Cruise
Cruise lines are always looking for new and interesting destinations to add to their itineraries and it is our view that Whangārei could become a northern New Zealand cruise destination.
Before COVID struck there was sufficient interest in Whangārei among cruise lines for several ships to have been booked to call at Northport for what might be termed 'exploratory' visits.
The first of these was booked for the summer of 2021 and was scheduled to arrive to coincide with the opening of the new Hundertwasser Art Centre in Whangārei.
Cruises to NZ re-started in the 22/23 season and calls to New Zealand ports are expected to increase to and beyond pre-pandemic levels over the next few years. Northport is expected to receive its first cruise ship in early 2024. At this stage (June 2023) Northport is scheduled to receive four in the 23/24 season, six in the 24/25 season and one in the 25/26 season.
Simulation, training and port development capability
Ship simulator
Training options for the New Zealand marine services sector have broadened considerably thanks to a ship simulator and training facility we have established on site at Northport. It can be used for a wide range of maritime training programmes and gives operators options beyond sending staff to Australia for training and aptitude testing, or enduring long waits for training windows in New Zealand. The simulator replicates the environment on the bridge of a ship or tug, or in a local port service centre.
The facility can be configured to simulate any port in New Zealand. It enables pilots, tug-masters, and local port service operators to train and prepare for changes to their operating environment such as the development of new berths or changes to channels and turning basins. We are currently reviewing proposed navigation aid changes in the Upper Whangarei Harbour.
The system can also be used as part of a port's emergency response training.
We are offering a range of training courses for up to six people at a time. These include Local Port Services courses; pilot professional development and annual assessment; bridge resource management and error management; PPU training; and tugmaster and bargemaster training.
Port operations and design
Our ship simulator has been an important tool in helping us to plan and prepare for large container ship calls at Northport in recent months. We use the equipment to examine, as part of the overall risk assessment, the effects on these ships of significant environmental occurrences here at the port.
For instance, as part of the planning for the arrival of the 261m 'Constantinos P' we simulated thunderstorm activity with associated heavy rain, reduced visibility and winds gusting up to 50 knots.
In addition to helping us with our own operations here at Northport the simulator has expanded significantly the planning options available to other port operators and the New Zealand marine service sector generally. It is available for organisations around the country to model any port's expansion and evolution, giving them the ability to project and study the feasibility of any proposed changes to a port's design or operating environment.
It will show the impact on navigation of changes to berths, changes to shipping channels and improvements in navigational aids. It can be adjusted to consider any changes to the port, or the use of differing ship types such as container ships, bulk cargo ships, car carriers and cruise liners.
We undertook a feasibility study around the construction of a dry dock for the country's marine industry as part of our Vision for Growth planning exercise. We used the simulator to test and prove the concept, along with different options for configuration and location. Vessel movement, turning capabilities, tug operations and other factors were tested extensively against many variables and in many different operating conditions.
We also used it in our investigation into how to future-proof the upper North Island vehicle import industry with a potential new business model. This would see cars discharged from vessels directly to purpose-built storage, vehicle preparation and distribution facilities immediately outside the port. All in a single movement.  We used the simulator to model and prove the seaward-side operations.
Crane and container-handling simulation
We can also provide crane operator training and aptitude testing with a separate CM Labs mobile harbour and ship-crane simulator. Following recent investment in container-handling equipment this will soon feature a reach-stacker module. This module has been ordered and arrival is imminent.
Marsden Maritime Holdings land holdings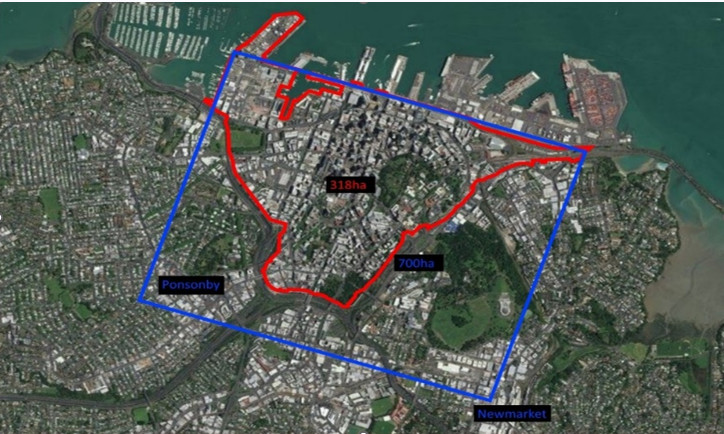 Northport 50 percent shareholder Marsden Maritime Holdings Ltd owns 65 hectares of land at Marsden Point which abuts directly onto Northport's boundary. These land holdings are available for lease to companies wishing to make use of the Northport facility.
It also owns 120 hectares behind this area, zoned for port or industrial use and available for long-term lease to companies wanting to make use of the port. Off-highway access to Northport is available from this area, meaning that normally overweight loads can be transported directly from a site to ship's side.
In all, there are about 700 hectares of land available for commercial and industrial development at and around Marsden Point - more than twice the area of the Auckland CBD.
Marsden Point has a lot to offer businesses wanting to relocate from places like south Auckland, specifically good transport links, abundant and relatively inexpensive space, no congestion and enviable lifestyle options for employees.
Northport is a key enabler in the Whangarei District Council's plan to realise the industrial, commercial and residential potential of the area.